The sounds of gunfire on Thursday echoed off the concrete walls of the old barracks on McClellan.
Those sounds came from police officers and deputies firing paste-tipped bullets during an hours-long training session.
"A couple hit me in the mask and one on my clavicle," an officer said, posing as a suspect in a mock scenario. The officer, dressed in a thick khaki jumpsuit, searched himself for other dots of colored paste left by the bullets.
+1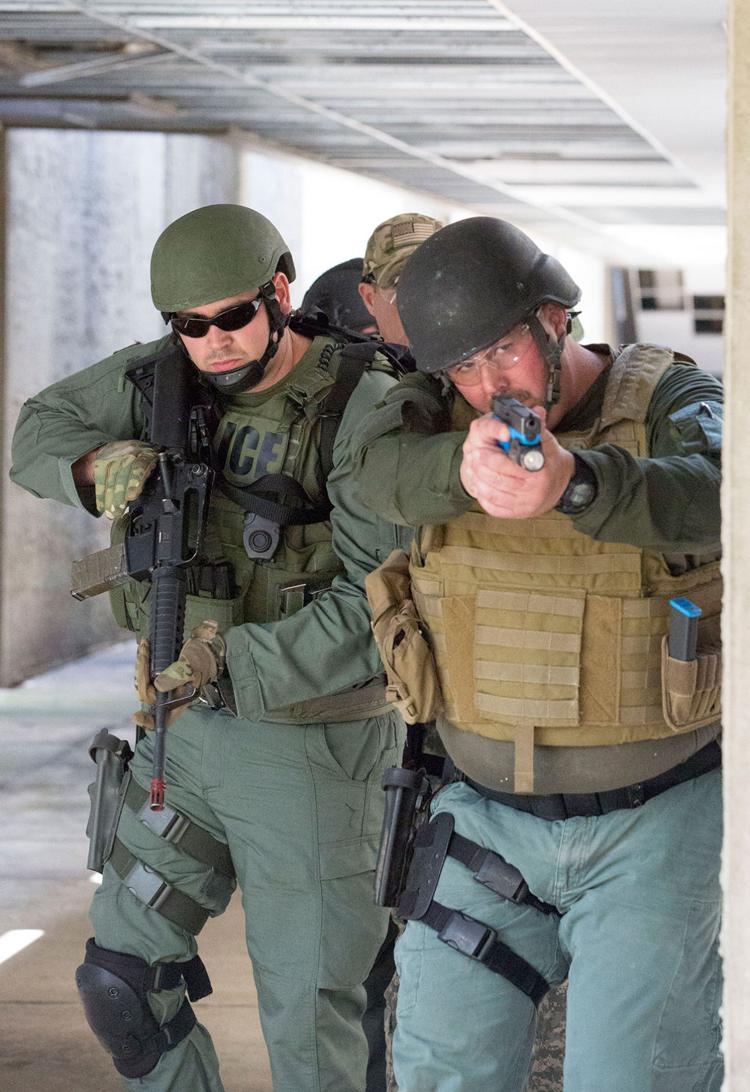 Local law enforcement agencies and others from surrounding counties broke up into teams on Thursday to train on SWAT tactics during a class hosted by an Anniston-based company.
"This is the first training of this kind where we integrate officers and deputies from different agencies," Dave Partner said during a break from the training. Partner, who co-owns ARM Group LLC with his wife, has been training officers in SWAT tactics since 2004, he said.
"I started as an MP here on McClellan, worked at Weaver Police Department, was hired back here as a SWAT instructor then worked as an instructor at the Federal Law Enforcement Training Center," Partner said.
Xtreme uses the property to train patrol and narcotics dogs and opens up the rest of the buildings for training like Thursday's event.
The training, which was free to the officers, focused on how to properly enter and search for suspects in unfamiliar territory, but also aimed to teach officers how to work with those from other departments.
Oxford police Chief Bill Partridge attended the training at McClellan along with several officers from his department.
"We learned a lot about how to work with other departments during the Randolph County incident," Partridge said, referring to a scene where a deputy was shot during a hostage situation in July.
Partridge said communication is the most important aspect when working with people they've never met before.
"We want to make sure we're on the same sheet of music when we go into a situation," he said.
On Thursday, officers from Anniston, Oxford, Gadsden, Talladega, Pelham, Hoover, Moody and Pell City police departments worked with sheriffs' deputies from Calhoun, Etowah and St. Clair counties.
Partridge said working with a local company was a bonus.
"It's great we don't have to travel to get this kind of training," he said. "We want to support local."
Staff Writer Kirsten Fiscus: 256-235-3563. On Twitter @KFiscus_Star.